Thomas MacVittie
The development of MacVittie
Chris Peak
Panther-lair.comPublisher
There were two connections that led Thomas MacVittie to his Pitt commitment, and the connecting point between the two is veteran quarterback trainer Skip Stitzell.
The first connection came four years ago, when a recommendation from a co-worker's brother led MacVittie's father to reach out to Stitzell. At the time, MacVittie was a freshman at Archbishop Moeller High School in Cincinnati, and his father – Tom MacVittie – wanted him to receive some specialized training. 
The second connection came last year. Stitzell has made more than a few acquaintances in college football through his 20 years of working with quarterbacks, and one of those acquaintances is Pitt offensive coordinator Jim Chaney. At the time, Chaney was the coordinator at Arkansas, but he didn't get a chance to evaluate MacVittie last fall, so nothing developed between the Razorbacks and MacVittie.
Thomas MacVittie committed to Pitt in March.
Stitzell knew MacVittie was the type of quarterback Chaney liked, though, so when Chaney was hired to join Pat Narduzzi's staff at Pitt in January, Stitzell reached out again. 
"I immediately texted him to say congratulations, and he got back to me and asked, 'What's going on with the Cincinnati kid?'" Stitzell told Panther-Lair.com. "I said, he's getting some looks, and he said, 'Okay, I want you to film him so I can see him do what you know I want to see him do.'
"So I filmed him and emailed it to him, and it couldn't have been more than a half hour before he texted me back and said, 'Wow, I really want this kid.' That got the thing started and then he went to Moeller and they offered."
The offer from Pitt came in February and MacVittie committed in late March. But that was just the latest step in his development as a quarterback, a process that will continue this fall when he takes over as Moeller's starting quarterback and one that began back when Tom MacVittie reached out to Stitzell. 
Of course, that step in the process wasn't an easy one, and the improvement MacVittie made came from quite a bit of dedication. Stitzell's company, The Quarterback's Edge, operates two facilities: one in St. Louis and one in Kansas City. If a quarterback lives east of St. Louis, Stitzell recommends that they go to the St. Louis facility. If they live in "Oklahoma or Kansas or Colorado or wherever," they go to Kansas City. 
MacVittie opted for the St. Louis facility, which meant a five-hour drive – each way – every other weekend for the better part of the last four years. To make it worth the drive, Stitzell trains MacVittie three times each weekend: once Saturday morning, once Saturday afternoon and once Sunday morning. Then the MacVitties get back in the car for a five-hour drive back to Cincinnati. 
So, with MacVittie fully dedicated to getting better under Stitzell's tutelage, the process began. The first thing that stood out to Stitzell was MacVittie's size: the high school freshman was 6-foot-5. 
"He was raw when he first came to me but he was also 6'5″, so I knew we could work with that," Stitzell said. "When I really knew there was something, I took him to Ohio State's camp that summer. Tommy Herman was the offensive coordinator and quarterbacks coach there, and he and I have been friends for a long time.
"So I had him and a couple other guys up there, and Herman comes over and says, 'Did you see what your boy did?' I said no, thinking he made a bad pass or something. He said, 'He ran a 4.5 flat.' I said, 'Really?' He said, 'We got him twice.' So now we had a 6'5″ guy who had speed."
Stitzell went to work on the big freshman with speed and focused immediately on the element he thinks just might be most important for a quarterback: 
His feet. 
"The thing that I've really established a reputation for is footwork," Stitzell said. "That was one of the things his dad told me. Right after Thomas committed to Pitt, he said, 'I'll never forget the first time he worked with you; you didn't have him throw the football and I was wondering what the heck we were doing there.'
"Then they sat in the office at Pitt and Narduzzi and Chaney went on and on about his footwork and his mechanics, and it really reinforced why we did what we did and why we put the time in on the footwork. 
"That's something I can really see with him and some other kids: when they start picking that up, how much smoother they get and how much more consistent. That really helps a lot. Your feet are your main aiming device; that's where your accuracy comes from. He got very good with his feet, and that transferred into throwing the ball really well."
So well, in fact, that Stitzell felt like MacVittie was just what Chaney was looking for. Stitzell has gotten to know more than a few offensive coordinators and quarterbacks coaches over the years, and along with that, he has developed an understanding of what those coaches look for in quarterbacks.
"One of the things that the college coaches I've talked to and picked up some things from say is that there's a certain kind of throwing motion that they like in a guy. So I started working with Thomas on bringing the ball back a certain way so you peak the ball up and come over the top. He worked really hard at it, kept getting better and better with it.
MacVittie will be the starting QB at Moeller this fall.
"Jim Chaney was one of the guys I had been around and gotten to know, and I knew that he really liked that way of throwing the ball: coming up to the 90 and then keeping the ball up as you come forward and coming out of your hand above your head."
And Stitzell had a feeling that MacVittie would be excited to hear from Chaney in his new post with the Panthers. 
"I help the guys through the recruiting process, and I knew going in that Pitt was one of the schools Thomas would really consider going to if they offered," Stitzell said. "So they visited and Pitt really rolled the red carpet out for them and that really impressed him. He said they made it known that they really, really wanted him."
While Stitzell – like everyone else who watches Pitt – is waiting to see what the Panthers' offense looks like with Chaney at the helm, he does feel confident that MacVittie will fit well into the scheme.
"Jim likes a bigger quarterback, especially if he can be a little mobile," Stitzell said. "But in his offense, you've got to be able to make all the different throws, and the one thing over the last year that Thomas has developed more is his velocity. After he committed and he told Jim that he was going to keep coming to me, he asked what he should work on. Jim said, 'Tell Skip to get a little quicker in your drops and keep working on your velocity.' That's what we're working on." 
So MacVittie's path will continue. He'll keep working with Stitzell throughout the summer as he gets ready for his opportunity at Moeller, where he'll be the starter after sitting behind upperclassmen the last three years. 
"I'm really excited to see how he plays this season," Stitzell said. "With his athleticism and smarts, he should be fine."
Skylar Thompson
http://www.todaysu.com/recruiting/football-recruiting/2016-qb-skylar-thompson-commits-to-kansas-state/
For Skylar Thompson and his family, Mother's Day was extra special as the three-star quarterback issued his commitment to Kansas State. Thompson chose the Wildcats over seven other offers from schools such as Wake Forest, Colorado and Kansas.
Last season, Thompson had a prolific year at Fort Osage High School in Independence, Missouri. Thompson led the Indians offense with a 64-percent completion rate to go with 2,385 passing yard, 24 touchdowns and just six interceptions. Thompson also added 461 yards and nine touchdowns on the ground.
"The opportunity to play for coach Bill Snyder is exciting," Thompson told Scout.com's Derek Young. "Their football program as a whole is top-notch."
Thompson is rated as the No. 15 dual-threat quarterback in the country and the No. 3 player in the state of Missouri according to 247sports.com.
Analysis
Thompson is listed as a dual-threat quarterback on 247sports, and while the 6'2", 195-pound passer has the mobility to keep defenses honest, he does most of his damage inside the pocket. Thompson threw for big numbers last year thanks to his ability to throw wide receivers open and to keep his eyes downfield when the pocket collapses. Thompson has great footwork within the pocket and is very economical with his movements, which is an impressive trait for a high school QB. Thompson goes through his progressions well as he moves up within the pocket. Accuracy is a strong suit of his game, as evidenced by his high completion percentage.
Most of Thompson's highlight tape shows him taking snaps out of the shotgun. This is fairly common in high school quarterbacks, but he will be asked to take snaps under center at the next level. When he does take snaps in pro-style formations, Thompson is light on his feet and gets good depth in his drop-backs. His footwork is also a positive when he flees the pocket, as he shows the ability to square his shoulders when throwing on the run.
Although Thompson shows many strong traits, the three-star prospect does have some work to do shoring up a few areas of his game. Thompson's release is quick enough to avoid the rush in high school, and is repeatable, but he would benefit by tightening it up a bit. Thompson also has a tendency to throw off his back foot. When he does transfer his weight and step into throws, the result is often a strike to his wide out. This is one aspect that he can serve to execute with more consistency. At this point, Thompson doesn't have the strongest arm either, but he is still developing and a tighter release could allow him to apply more pace to his passes.
At 6'2" and around 200-pounds, Thompson has the size to play quarterback at the next level for the Wildcats. He is a smart passer who rarely makes mistakes, and when the throw is not available downfield he doesn't hesitate to flee the pocket and run for a first down. These traits will allow him to flourish at the college level. Thompson will not be asked to step into the starting lineup immediately at Kansas State, and should benefit from spending time learning the offense for a few years. He projects well as a versatile quarterback that has the skills and experience to run a spread offense, or even venture into the option if need be.
Top 10 athletes | No. 7: Drew Hare showcases future potential
Article by Frank Gogola | @FrankGogola
Drew Hare, football redshirt sophomore quarterback, deservedly lines up at No. 7 in Sports' countdown of top 10 athletes.
Not only did Hare lead NIU to its third MAC Championship in four years, but he did it while replacing a legend in Jordan Lynch, sharing playing time at the position and never officially being named the starter.
In 14 games and 12 starts, Hare completed 59.5 percent of his passes for 2,322 yards and 18 touchdowns. He took care of the ball, being picked off only twice in 326 throws. On the ground, he ran for 900 yards and eight touchdowns, both of which ranked second on the team.
His focus this offseason will be on his vocal leadership, his deep passes, and throwing the ball on the run.
Bob Cole, offensive coordinator and quarterbacks coach, gave Hare a grade of 80 out of 100 following the Huskie Bowl on April 11.
"I think he's capable of quite a bit more," Cole said, according to an April 13 Northern Star article. "Not that he's playing bad right now, but I think there's a lot more in there that we can get out of him. I think he feels the same way."
---
Backup Plan in Works: Razorbacks' Reserve Quarterbacks Older, Wiser
Razorbacks' reserve quaterbacks older, wiser
Article by Tom Murphy on April 19, 2015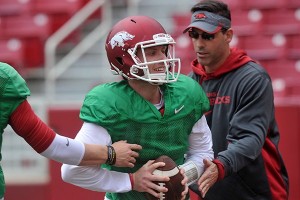 FAYETTEVILLE — Brandon Allen's status as a two-year starter at quarterback will give Arkansas the kind of edge at that position in the rugged SEC West that perhaps only Mississippi State, with veteran Dak Prescott returning, can match.
Coach Bret Bielema said Allen is making such strong progress that his challenge heading into 2015 needs to be matching up with the best quarterbacks in the SEC. The Razorbacks are also pushing to have a backup at quarterback who can enter a game, take command and operate with good efficiency.
New offensive coordinator Dan Enos has split reps pretty evenly this spring between redshirt sophomore Austin Allen and redshirt freshman Rafe Peavey on the second team. True freshman Ty Storey, an early enrollee, is getting his feet under him and already is showing that his upside is big while he heads toward a likely redshirt season.
After Saturday's workout, a modified scrimmage day that featured work on the outdoor practice fields before rain moved the workout to Walker Pavilion, Bielema said Austin Allen is the No. 2 quarterback behind his brother.
Austin Allen had a better two-minute performance at the end of Saturday's work than Peavey, who threw an interception to safety Ryder Lucas in an intermediate zone.
"Austin, right there at the end of the two-minute drill, was just throwing the ball extremely well," Bielema said. "I don't know how much I'd say he's ahead of Rafe because Rafe is doing some really nice things."
Bielema said longevity might be the biggest factor separating the second-teamers.
"Austin's been in our program a little bit longer, more in tune, but I think Rafe has continued to come along and is right there nipping," Bielema said. "It might be 2A, 2B more than anything.
"And I"ll tell you what, Ty had a nice week as well. Ty's playing as well as he has since he's been here."
Austin Allen did not escape without an interception Saturday. His pass for Cameron Colbert over the deep middle was tipped in the air and defensive back Kevin Richardson came down with it in one-on-one work. Also, linebacker Josh Harris stretched out to make an interception of Austin Allen's pass over the middle during a skeleton period.
Austin Allen is the only Razorback quarterback with snaps as a reserve. He was 8 of 16 for 153 yards with 1 interception and no touchdowns in 5 games last year. His most important work came while closing out Arkansas' 30-0 victory over Ole Miss after Brandon Allen injured his right oblique muscle. Austin Allen entered with the score 17-0 midway through the second quarter and was 3 of 5 for 65 yards.
Some observers argued Bielema should have played Austin Allen the next week at Missouri when his older brother was struggling badly with his accuracy in the third quarter of Arkansas' 21-14 loss. But Bielema said after the game he still thought Brandon Allen with a sore oblique, which was not allowing him to follow through on passes, gave the Razorbacks a better shot at winning the game.
Austin Allen has pushed himself to make that scenario a harder decision for Bielema in 2015.
"I'm feeling very comfortable with everything," Austin Allen said. "I feel like I'm the veteran out there in the No. 2 huddle now.
"I'm just trying to get in the playbook and know where to go with the ball, make quicker decisions this year and not hold on to the ball."
Austin Allen had strong performances in Arkansas' first two scrimmages of the spring, combining to complete 17 of 20 passes for 227 yards and 3 touchdowns. Peavey went 7 of 13 for 67 yards in the two scrimmages.
"Both of them are … students of the game in the fact that it's very important to them," Enos said earlier in the spring. "They ask a lot of questions. They do a lot of study and work on their own. I like both of them and they've had about equal reps."
Enos pointed out that operating the second offense has had its challenges this spring because so many of the linemen are newcomers.
"We've got five guys who should be seniors in high school out there right now," Austin Allen said. "I'm just going in there and being around the program and buying in."
Peavey, whose running skills are an asset in addition to a strong arm, has had the scrambling part of his game nullified to a degree with the quarterbacks off limits this spring. He said his redshirt season last year proved valuable.
"It's like night and day honestly," Peavey said. "I'm starting my third semester here, so I'm getting used to school and that helps a whole lot. … Everything is just really slowing down now.
"I just try to focus on what I can do and I just try to get 1 percent better every single day. That's the kind of mentality I have, so I'm not worried about who is above me or who is below me."
Brandon Allen said his brother is making progress at being more of a take-charge quarterback, the same issue he had to push himself on as a younger player.
"It's kind of what you want in a QB, that calmness, but there's a time where you're going to want to take charge and maybe rip someone's butt who wasn't doing something right," he said. "I think that's going to come with him. That's what it was for me early on. I wasn't that take-charge kind of guy, and I think with just the years to come it's going to come for him."
Sports on 04/19/2015
---
THOMPSON RAKES IN ANOTHER OFFER
By Derek Young on April 16, 2015
The third power 5 offer has rolled in for Kansas City area quarterback Skylar Thompson at the beginning of the evaluation period…
The top quarterback in the Upper Midlands region for the 2016 class is signal caller Skylar Thompson of Fort Osage High School in Independence, Missour. The Kansas City area talent is relishing the opportunity that the new evaluation period brings.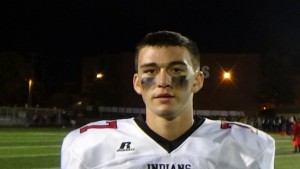 "It was a very cool experience to throw in front of college coaches," Thompson said. "I was fired up for this new recruiting period. I knew I'd have a chance to prove myself and show my worth. I was ready to go today."
The evaluation portion of the recruiting cycle has brought Thompson his third power 5 offer. Kansas and Wake Forest had already offered.
"Iowa State offered me today," he noted. "I would say that's a pretty big one for me. I'm still open to anything and everyone right now, though. They came and saw me throw today. It didn't take long for the offer to come afterwards. Coaches Sturdy and Tommy Mangino were the ones that came by."
The Cyclone staff hadn't been in consistent contact with the Missouri native but the fact that he became the first prospect they have offered at his position was meaningful.
"I actually hadn't spoken to Iowa State much recently," Thompson revealed. "They had spoke with my coach more than anything. There was a bit of a disconnect there when Pete Brown left to go to Louisville. It was just contact every now and then. But I'm the first quarterback that they have offered so I think that says how much they want me. That's an honor."
Thompson shared how he will operate in his recruitment moving forward, and where Iowa State will be factored in.
"I'm going to look into the offer with my family and head coach," he explained. "I'm not sold on anyone yet. I'm taking my time and letting everything roll right now. I'm just going to see where things go for now."
"I'm going to consider everyone moving forward, so of course Iowa State will be included and looked at closely," Thompson added. "I show the schools love that show me love. I'm going to look into this one for sure."
---
Pitt picks up verbal commitment from Ohio QB Thomas MacVittie
By Sam Werner / Pittsburgh Post-Gazette
Pitt landed its third verbal commitment of the 2016 recruiting class today when Archbishop Moeller (Ohio) quarterback Thomas MacVittie gave his pledge to coach Pat Narduzzi.
MacVittie is listed as a three-star prospect by 247 Sports' composite rankings, and chose Pitt over offers from Cincinnati, Miami (Ohio), Ohio and Toledo.
"I have officially committed to The University of Pittsburgh to further my academic and athletic career," MacVittie wrote on his Twitter page.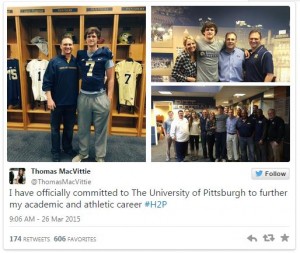 He is the first quarterback to join Pitt's class of 2016, Narduzzi's first full recruiting class as the Panthers' head coach.
Sam Werner: swerner@post-gazette.com and Twitter @SWernerPG
---
Pitt Football Recruiting: 2016 QB Thomas MacVittie commits to Panthers
Article by @Sta7ic on Mar 26, 2015, 4:04pm
Head coach Pat Narduzzi received his 3rd recruit for the 2016 class this morning.
Pat Narduzzi picked up his third commitment since Saturday when 6'5″, 210 lb Cincinnati QB Thomas MacVittie committed to the Panthers on a visit this morning.
Thomas, a 247 three star recruit, chose Pitt over offers from Cincinnati and Miami (OH). His offer list is not very impressive, but he has not had much in playing time as he sat behind an entrenched starter. Pitt Offensive Coordinator Jim Chaney found him through a recommendation from MacVattie's throwing coach. MacVattie's team coach is very high on him: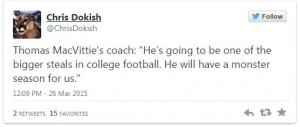 Many felt MacVittie's recruitment would grow as he went through development camps for different teams when they'd be able to see him through. Obviously Pat Narduzzi made Thomas feel comfortable enough to end it early anyway. That of course doesn't mean MacVittie won't be pursued by others after committing. One of the committee members of the Army All American game also had positive things to say:


Welcome to Pitt, Thomas.
---
Recruiting Wrap: Thompson
By Rivals.com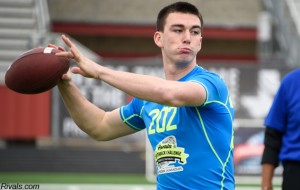 Recruiting wrap: Thompson holds offers from Kansas, Illinois State and North Dakota State. He just visited Iowa State, and he is also receiving interest from Missouri, Nebraska and several other college programs.
Performance: Thompson had the best performance from beginning to end. He was able to do whatever was asked of him throughout the day, and he did not miss a beat. He finished second in the finals of the Rivals QB Challenge, but he showed the ability to throw with touch, accuracy and velocity. Overall, it was a very strong performance for the three-star quarterback.
---