Missouri Sports Hall of Fame Inductee 2020
---
Radio Interview with Coach Skip
---
The development of MacVittie
Chris Peak
Panther-lair.com Publisher
There were two connections that led Thomas MacVittie to his Pitt commitment, and the connecting point between the two is veteran quarterback trainer Skip Stitzell.
The first connection came four years ago, when a recommendation from a co-worker's brother led MacVittie's father to reach out to Stitzell. At the time, MacVittie was a freshman at Archbishop Moeller High School in Cincinnati, and his father - Tom MacVittie - wanted him to receive some specialized training.
The second connection came last year. Stitzell has made more than a few acquaintances in college football through his 20 years of working with quarterbacks, and one of those acquaintances is Pitt offensive coordinator Jim Chaney. At the time, Chaney was the coordinator at Arkansas, but he didn't get a chance to evaluate MacVittie last fall, so nothing developed between the Razorbacks and MacVittie.
Stitzell knew MacVittie was the type of quarterback Chaney liked, though, so when Chaney was hired to join Pat Narduzzi's staff at Pitt in January, Stitzell reached out again.
"I immediately texted him to say congratulations, and he got back to me and asked, 'What's going on with the Cincinnati kid?'" Stitzell told Panther-Lair.com. "I said, he's getting some looks, and he said, 'Okay, I want you to film him so I can see him do what you know I want to see him do.'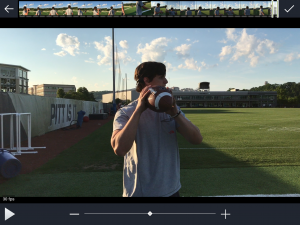 "So I filmed him and emailed it to him, and it couldn't have been more than a half hour before he texted me back and said, 'Wow, I really want this kid.' That got the thing started and then he went to Moeller and they offered."
The offer from Pitt came in February and MacVittie committed in late March. But that was just the latest step in his development as a quarterback, a process that will continue this fall when he takes over as Moeller's starting quarterback and one that began back when Tom MacVittie reached out to Stitzell.
Of course, that step in the process wasn't an easy one, and the improvement MacVittie made came from quite a bit of dedication. Stitzell's company, The Quarterback's Edge, operates two facilities: one in St. Louis and one in Kansas City. If a quarterback lives east of St. Louis, Stitzell recommends that they go to the St. Louis facility. If they live in "Oklahoma or Kansas or Colorado or wherever," they go to Kansas City.
MacVittie opted for the St. Louis facility, which meant a five-hour drive - each way - every other weekend for the better part of the last four years. To make it worth the drive, Stitzell trains MacVittie three times each weekend: once Saturday morning, once Saturday afternoon and once Sunday morning. Then the MacVitties get back in the car for a five-hour drive back to Cincinnati.
So, with MacVittie fully dedicated to getting better under Stitzell's tutelage, the process began. The first thing that stood out to Stitzell was MacVittie's size: the high school freshman was 6-foot-5.
"He was raw when he first came to me but he was also 6'5", so I knew we could work with that," Stitzell said. "When I really knew there was something, I took him to Ohio State's camp that summer. Tommy Herman was the offensive coordinator and quarterbacks coach there, and he and I have been friends for a long time.
"So I had him and a couple other guys up there, and Herman comes over and says, 'Did you see what your boy did?' I said no, thinking he made a bad pass or something. He said, 'He ran a 4.5 flat.' I said, 'Really?' He said, 'We got him twice.' So now we had a 6'5" guy who had speed."
Stitzell went to work on the big freshman with speed and focused immediately on the element he thinks just might be most important for a quarterback:
His feet.
"The thing that I've really established a reputation for is footwork," Stitzell said. "That was one of the things his dad told me. Right after Thomas committed to Pitt, he said, 'I'll never forget the first time he worked with you; you didn't have him throw the football and I was wondering what the heck we were doing there.'
"Then they sat in the office at Pitt and Narduzzi and Chaney went on and on about his footwork and his mechanics, and it really reinforced why we did what we did and why we put the time in on the footwork.
"That's something I can really see with him and some other kids: when they start picking that up, how much smoother they get and how much more consistent. That really helps a lot. Your feet are your main aiming device; that's where your accuracy comes from. He got very good with his feet, and that transferred into throwing the ball really well."
So well, in fact, that Stitzell felt like MacVittie was just what Chaney was looking for. Stitzell has gotten to know more than a few offensive coordinators and quarterbacks coaches over the years, and along with that, he has developed an understanding of what those coaches look for in quarterbacks.
"One of the things that the college coaches I've talked to and picked up some things from say is that there's a certain kind of throwing motion that they like in a guy. So I started working with Thomas on bringing the ball back a certain way so you peak the ball up and come over the top. He worked really hard at it, kept getting better and better with it.
"Jim Chaney was one of the guys I had been around and gotten to know, and I knew that he really liked that way of throwing the ball: coming up to the 90 and then keeping the ball up as you come forward and coming out of your hand above your head."
And Stitzell had a feeling that MacVittie would be excited to hear from Chaney in his new post with the Panthers.
"I help the guys through the recruiting process, and I knew going in that Pitt was one of the schools Thomas would really consider going to if they offered," Stitzell said. "So they visited and Pitt really rolled the red carpet out for them and that really impressed him. He said they made it known that they really, really wanted him."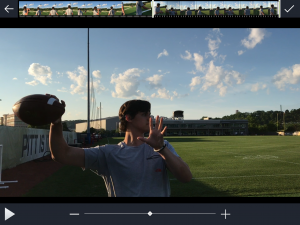 While Stitzell - like everyone else who watches Pitt - is waiting to see what the Panthers' offense looks like with Chaney at the helm, he does feel confident that MacVittie will fit well into the scheme.
"Jim likes a bigger quarterback, especially if he can be a little mobile," Stitzell said. "But in his offense, you've got to be able to make all the different throws, and the one thing over the last year that Thomas has developed more is his velocity. After he committed and he told Jim that he was going to keep coming to me, he asked what he should work on. Jim said, 'Tell Skip to get a little quicker in your drops and keep working on your velocity.' That's what we're working on."
So MacVittie's path will continue. He'll keep working with Stitzell throughout the summer as he gets ready for his opportunity at Moeller, where he'll be the starter after sitting behind upperclassmen the last three years.
"I'm really excited to see how he plays this season," Stitzell said. "With his athleticism and smarts, he should be fine."

--