---
Couldn't be Prouder of Skylar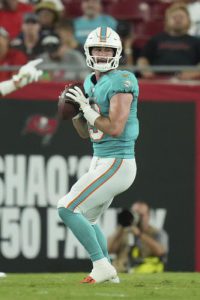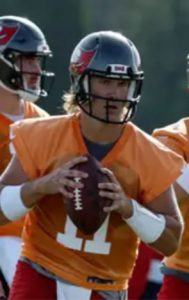 NFL 12 Years
5 Teams
1 Super Bowl
Penn State

Penn State's Next Quarterback
★★★
In the Last Two Years
6 USA Today
High School
All Americans
Had The Edge
★★★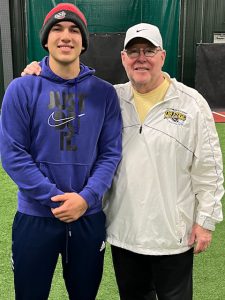 Another New Signee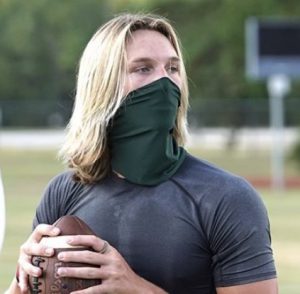 Who will be the next Great One?
Another New D1 Signee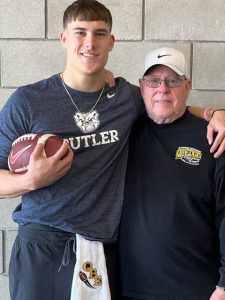 ★★★
9 Edge
Quarterbacks
Have Made
The Elite 11 Finals
★★★
Who will be the next Great One?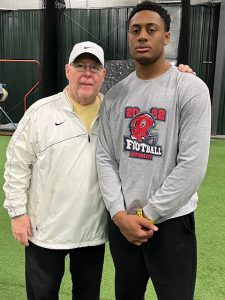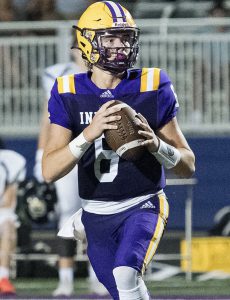 Another D1 Signee
New D1 Sign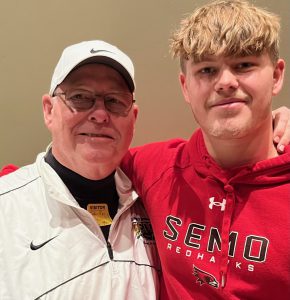 ★★★
U.S. Army
All-American Game
Featured 8 Quarterbacks
with The Edge
 ★★★
---
Cade Brister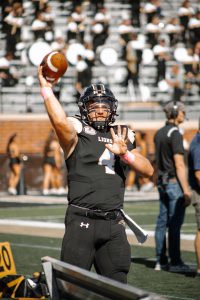 Another Edge All American
Harlan Hill Award Finalist
(D2 Heisman)
All American for 2 Years
4 Years All Conference
10,849 Passing Yards
97 Passing Touchdowns
2,024 Rushing Yards
31 Rushing Touchdowns
929-1472 (63% Completion Percentage)
About Coach Skip
"I love the opportunity of preparing quarterbacks with the ability and desire to play at the next level. My goal will always be to see excellent quarterbacks become exceptional quarterbacks."
Skip Stitzell was born and raised in Des Moines, Iowa. In 1993 he settled in Missouri and the rural community of Fayette. It was in Fayette where Coach Stitzell was volunteering as a high school football scout when he was asked to work with a young sophomore quarterback. By the time that QB was a senior, he was ranked fifth in the state and was getting noticed by other college coaches—so too was Stitzell. Coach Stitzell was asked to work with more and more QBs. To prepare himself for this challenge, Stitzell began attending camps and clinics around the Midwest to hone his talents and teaching techniques. He observed and worked with some of the top trainers in the field of QB development.
In 2001, Coach Stizell turned his obvious talent and enthusiasm for high school football and the quarterback position into a private business venture. The QuarterBack's Edge was created to give Coach Stitzell a way to reach and develop quarterbacks that have the desire, skills and drive to succeed.
Coach Stitzell has earned a reputation as one of the top prep-QB authorities. He is frequently called upon to evaluate and assess the talent of high school quarterbacks throughout the country. His skills are highly respected and sought by both parents and coaches. In his first few years of business, Coach Stitzell was instrumental in helping develop two of the most prolific passers in Missouri history!
Coach Stitzell has developed a close association with many Division 1 programs, and numerous colleges at all levels. He is often asked to coach and speak at their camps. Spanning the last 12 years, Coach Stitzell was an instructor at the original Nike and Elite 11 football camps. During that time, he had 8 quarterbacks selected for the final Elite 11. For 6 or 7 years, Coach Skip was one of the lead instructors of the QB skills and drills at the U.S. Army National Combine in San Antonio, Texas. Coach Skip has had 6 quarterbacks invited to participate in the prestigious U.S. Army All-American game.
Coach has had over 45 quarterbacks play NCAA Division 1 football in the last 10–15 years with another 25 or 30 playing Division 2 NAIA and Division 3 football.
The Quarterbacks Edge
Quarterbacks play the most important position on their team. Unfortunately, they are also the most under-coached. School football programs do the best they can, but staffing, budget constraints and lack of updated training skills can keep QBs from reaching their greatest potential. That's why Skip Stitzell is here to give today's QB an EDGE.
With many high-dollar coaches, camps, and clinics, only Division I prospects get the attention while other athletes just wait in line. With the Quarterback's Edge, smaller groups and reasonable fees guarantee no one waits in line and everyone gets the individual attention they need. Middle school, high school and college-level QBs are welcome.
Whether you're a drop-back pro-style, dual-threat RPO, or shotgun quarterback, Coach Skip knows what you need to succeed! Each workout session highlights basic drops, footwork, and throwing motion, all designed to improve your passing accuracy. You will be shown how to incorporate these drills into your current football program. There is a heavy emphasis on mechanics and techniques. Based on skill level, tailored instructions are utilized to improve confidence and passing efficiency.
Each year, the workout is updated with new drills and procedures. Coach Skip's extensive experience comes in part from being invited to some of the top college camps in the Midwest. Coach Skip can teach you off-season drills for continued strength conditioning, foot work and throwing mechanics. Coach Skip also has an ever-increasing video reference library from some of the best passing teams and coaches in the country.
The Workout
Coach Skip specializes in individual and personalized workouts. If you're a coach or parent with a quarterback who wants the attention and reps that one-on-one teaching can bring, the individual workout session is for you. Everything covered in my workout session is now directed at just one to four quarterbacks, and the training is done in ninety-minute sessions.
As word of Coach Stitzell's popularity spreads, he is being asked more frequently to fly or travel to do sessions with quarterbacks in states outside the midwest. Because of travel expenses, lodging, and time constraints, these workouts are handled on an individual basis. In some cases, athletes travel to Coach Skip for multiple sessions over a two or three-day period. Contact Coach Skip for more details.
Participation
Advance registration is requested. No one can participate without parental permission. Click HERE for application. Coach Skip's yearly roster is limited to a select number of athletes. Reserve your session early to ensure the best dates! Remember, quarterbacks need to be leaders. Successful quarterbacks need to have an EDGE.
Coaches and Parents! Unlike other camps and clinics that are here for a day or two and then gone, Coach Skip is always available to work with your quarterback year round. Send an e-mail or call 660-728-0333 for more info.